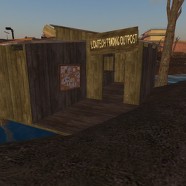 Oct

11
Tags
Related Posts
Share This
Market Report [10-10-09]

Prices seem to be stabilizing, and shelves are fuller, especially at the Bunker and Trade Post. Two new shops have opened in Bloodmoss Swamp, Japilina Yun's Traperos, and Dragnar Drake's LowTech Outpost.
Dragnar is selling food, which is also on offer at the Trade Post. I have added Sand Hippo Bacon to the list of items.
Ranged weapon prices declined for the third straight report, although ammunition sales were brisk according to traders I talked to.
As always, if there is another trade store that you think should be included, contact Patrice Cournoyer of the Post-Apocalyptic Press.
Wasteland Market prices (for the week of 9/27/09 -10/02/09, average)
| | | | | |
| --- | --- | --- | --- | --- |
| | General Stoar | Bunker | Trade Post | Sledgepile |
| Nuts and Bolts | n/a | 20 | 45 | 30 |
| roll of tape | n/a | 90 | n/a | 75 |
| Iron Scrap | 165 | n/a | n/a | n/a |
| Pistol Barrel | 85 | n/a | 75 | n/a |
| CO2 Canister | n/a | n/a | n/a | |
| Rope | n/a | 60 | 65 | |
| Lumber | 70 | 65 | 65 | 70 |
| Bullets | n/a | n/a | n/a | n/a |
| Slugthrower | 850 | n/a | n/a | |
Wasteland Market prices (for the week of 10/3/09 – 10/9/09, average)
| | | | | | | |
| --- | --- | --- | --- | --- | --- | --- |
| | General Stoar | Bunker | Trade Post | Sledgepile | Traperos | LowTech Outpost |
| Nuts and Bolts | n/a | 45 | n/a | n/a | | 30 |
| roll of tape | n/a | 90 | | n/a | | 20 |
| Iron Scrap | n/a | n/a | n/a | n/a | | |
| Pistol Barrel | n/a | 75 | 75 | 70 | | 75 |
| CO2 Canister | n/a | n/a | n/a | n/a | | |
| Rope | 60 | 65 | 70 | n/a | | |
| Lumber | n/a | 65 | 65 | n/a | | |
| Bullets | n/a | n/a | 150 | n/a | 150 | |
| Slugthrower | n/a | n/a | 700 | | | |
| Sand Hippo Bacon | | | 30 | | | 20 |