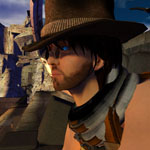 Sandusky Kayvon
Salvaged Editor aka the Relic Excavator
When he first settled down in the Wastelands, the Relic Excavator spent most of his time, digging in the ground, studying the people and the structures, and noting his thoughts down. It wasn't long before he raised his head out of the sand and teamed up with Aki Shichiroji. At a broken old printing press with ancient equipment, the two of them set about making a newspaper for the Wasteland community and their stories.
Sandusky can be found most often in Cormac, digging about for ruins and remains. He also frequents the streets of the Wastelands, looking for new faces and the stories they may tell…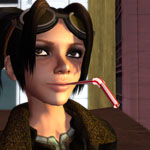 Aki Shichiroji
Salvaged Editor
Aki came to the Wastelands some time ago and sought refuge amidst salvaged metal and concrete, like everyone else. Some time later, she and Sandusky joined forces to put ink to paper and spread word of the land to the masses. She has been around and about the Wastes ever since.
Having found something out of the ordinary, she settled in near a reclaimed immunization clinic, near the base of wrecked Fort Stygian, determined to unearth more about this sinister place, where all is not as it seems.
In her spare time, Aki muses about mythic lush grounds untouched by disaster, and far off voices of the past.