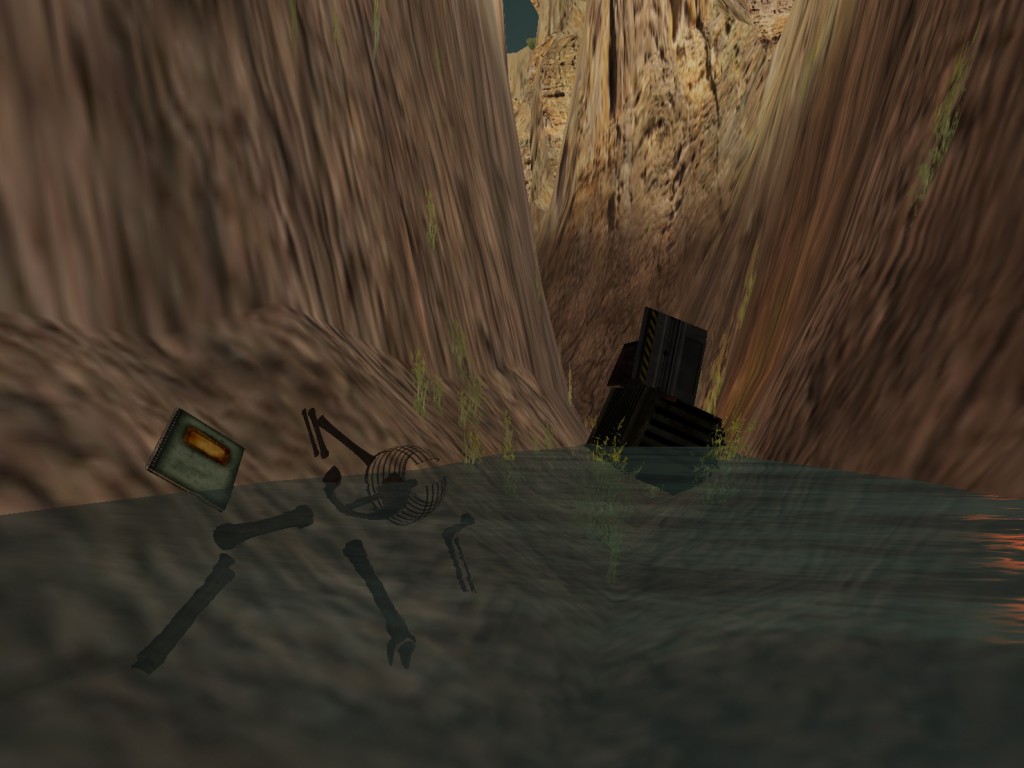 Editor's Note:  Shortly after the Wastelanders ventured south to the Great Fissure, some explorers discovered the smoking wreckage of an old salvage machine at the bottom of the great chasm.  Lying nearby was an old skeleton with a water-logged journal.  The following notes were taken from that journal…
(dirty water logged pages)
…dworms have been acting up as of late.  I hope we can kill one today so we can eat for a while.  I think they've been stealing things from the clan.  I don't know why they're act…
(dirty water logged pages)
…metal man of the old wars came to our clan from the west.  He brought supplies and food.  He pointed at me, then pointed at the horizon.  He drew in the sand the oldworld object of creation.  Then he pointed to the ground.  I think he wants me to go with him to get one.  Hopefully soon we'll have the ability to fight back agains…
(dirty water logged pages)
It's been long days and long nights.  I don't know how much farther we have to travel, but it's just me and the metal man.  He doesn't sleep at night, he sits there staring at the horizon until I fall aslee…
(dirty water logged pages)
…ow how he does it, but he manages to have a meal prepared for me for breakfast every morning it tastes ho…
(dirty water logged pages)
… don't belive this is where he gets the oldworld objects from.  They're connected to a much larger object, looks kind of like a metal house.  It was making a hum, and he told me to stay back while he approached it and did something to silence the hum.  This doesn't feel right.
After a while he told me it was okay to approach it, he produced from his backpack an old world device of intense heat.  He slashed and hacked at the metals.  started to pull so scrap myself and he grabbed my arm as if to say "No". So much scrap!  The clan will celebrate for many nights to come it's a shame we h…
(dirty water logged pages)
..ar things at night.  The metal mans silent gaze on the horizon isn't the same as is was before.  It almost looks as if it's concerned.  It's hard to tell, he doesn't smi…
(dirty water logged pages)
I'm exausted.  The metal man woke me up last night and motioned for me to run, I've never been so terrified.  Ledgend has it few things frighten him, as few things can hurt him.  If something makes him run, I know I should run.  We came back to camp in t…
(dirty water logged pages)
…now why he brought me now.  Seems he doesn't have a way with pack animals.  I guess I'm in charge of driving here.  He keeps motioning for me to go faster, but the Sand Hippos are going  as fast as they can.  Somehow this doesn't feel right.
Last night I saw what was chasing us!  It caught us off guard, swooped in and knocked the metal man off the caravan.  it made a chittering metal noise, then it opened up in front of me to reveal a beautiful gem.  It had the color of the metal mans eye.  I was amazed at it's beauty, until a large rock hurled by the metal man destroyed it.  Why is he so angry at these things?  I went to pick up the gem and the metal man took it an threw it farther than I c….
(dirty water logged pages)
…ickness.  My hair was falling out, but the metal man gave me an oldworld medkit.  I should be better soon.  Tonight we're at the ridge of the desert and can see the clans camp from here.  Settling at this fissure was the best thing that could happen to us.  Fresh water, food.  Something is odd though, the metal man still looks off into the distance even as I write this.  Tommorrow we cross the bridge and set the salvager up.  I'll be a hero to my clan!  No more scraping by for us!  I just need to rest a few days to take care of the radiation sickness.
(dirty, blood stained, water logged pages)