Two Years.  Two years of scavengers slowly trickling in to this broken corner of the world.  We've scrapped together structures from the wreckage of our unknown past and fought for our survival among the ruins and rust.  We've dared to sprawl out from the hearth of our existence, the salvage machine.  We've staked territory among the Junkyard scraps and perched upon the Fissure's edge.  We've nestled ourselves within the scorched Stygian crags and bridged the fetid waters of Malady and Bloodmoss.  A few individuals have dared to push further, daring to inhabit the brutal and barren regions on our known outskirts.
Recently, I was bold (or more accurately foolish) enough to travel farther across the sands and swamps.  I'm no longer sure of the things I witnessed before collapsing from exhaustion and dehydration.  Mirage or reality?  The Heapkeeper found me during one of his mysterious trips in the outer wastes and hauled my sorry ass back to the Wastelands, slapped on top of a sand hippo.  I'm not sure why he bothered…probably so the Metal Man could stop by and scold my stupidity with loud grinding noises of scraping metal screams.  At least…i think it was "scolding" me?
But i think…i think i remember.  Peering along twisted spines of smoke and rock.  Crawling through asphalt canyons between leaning towers of decay.  Walking between giant husks of metal ruin on a dismal shoreline.  Yes, i think i remember these things…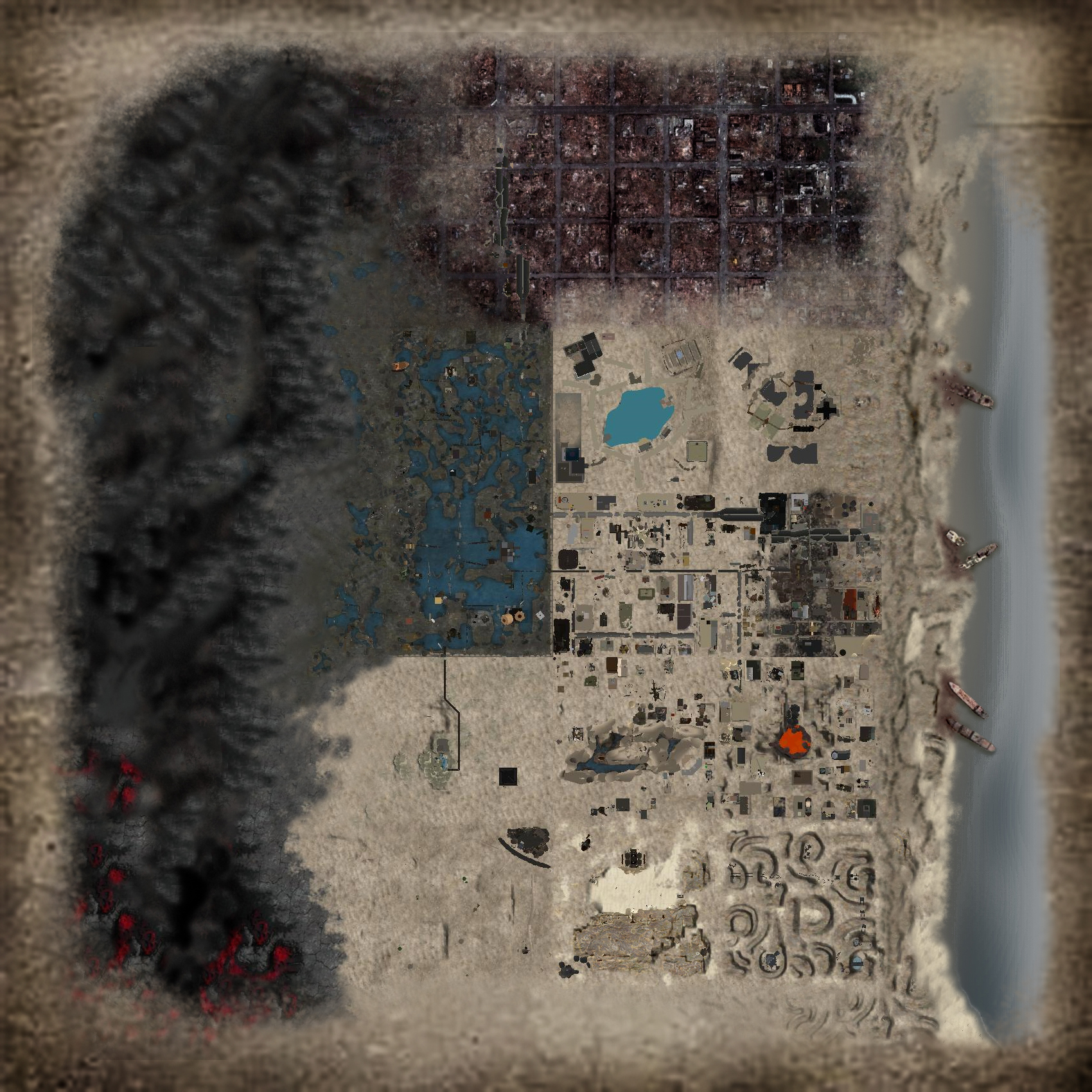 But I digress…and I'm not willing or able to revisit such places, real or imagined, at this time.  Back to the topic at hand…two long years of hard work.  Vicious fighting.  Desperate Survival.
But today is different.  Today we set aside our long labor and rivalries for one day of celebration.  Games of amusement performed on a grand stage.  Sounds of dark ritual culled from metal and string.  Competitions of sport and blood to challenge the brave and bold.  Moving pictures of light and sound to mesmerize or confound the senses.
Today, the Wastelands celebrate their second year of survival and there are some notable events being held throughout our settlement.
12 PM – Cabeza Muerta games at the Court of Skulls in Cormac
1 PM to 3 PM – DJ Kid Caustic and Redzone perform at the Atropine Stage in The Great Fissure
1 PM to 3 PM – Game Shows at the Chaoseum, hosted by Giuseppe Spicoli in the Great Fissure
3 PM – Fight Night at the Potato Farm in Hambone Slash
5 PM – 7 PM – Movie Night at the Burnt Oak Drive-In, Courtesy of Giuseppe Spicoli
7 PM – DJ Gomi Mfume at the Junkyard Stage in The Junkyard (Tentative)
NOTE:  Free Wastelands 2nd Birthday T-Shirts are available at the Wastelands Museum in the Wastelands. Courtesy of Patrice Cournoyer, Museum Curator.
(The Wastelands Dev staff would like to thank all of our talented residents for making the Wastelands one of the most unique places in Second Life.  Cheers to all of you as we go into our 3rd year of existence!)