((Editor's Note:  This is Part Two of a Three Part series devoted to Giuseppe Spicoli, long-time resident and entertainer of the Wastelands community, in tribute and appreciation to the hard work and many events he hosted for the community over the last two years since the birth of the Wastelands in Second Life.))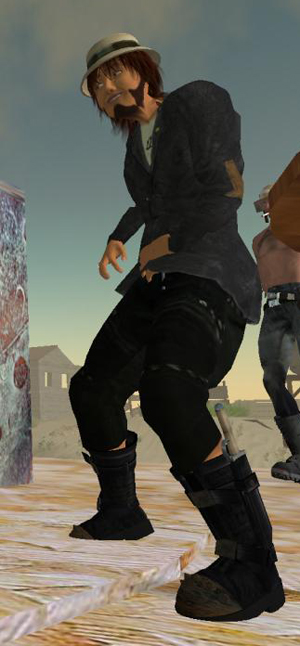 In time, the Wastelanders expanded to the southern sands around the Great Fissure.  Giuseppe Spicoli also laid claim to a stepping concrete ruin facing the mouth of the chasm.  He quickly erected a rough plywood stage between it and the Fissure's edge and declared this place the Chaoseum.  What were we to expect from this guy now?  We later found out during a particularly long day of celebrations after the settlement expanded to the southeast around Fort Stygian's crater.
On that day, Spicoli rounded up as many Wastelanders he could get his sneaky hands on to sit in the concrete stands.  Then, he picked out individuals to join him on stage for tests of intelligence and strategy.  He called it a "Game Show" and as the weeks and months passed, he introduced many different "Game Shows" for our curiosity and enjoyment.
They all had funny names like Taunt the Mutant…Match Game…Boom or No Boom…Wasteland Squares.  Each one was unique competition hatched from Spicoli's mad schemes.  Who knows what sun-stroked-insanity inspired him to concoct such ingenious trials?  Regardless of their origins, we found ourselves repeatedly drawn to him and his Chaoseum, eager for a chance to try our luck on stage.
Taunt the Mutant was clearly a test of intellect as well as luck.  Three contestants would assemble on stage, hands poised over noisy buzzers to answer rounds of multiple-choice questions.  Correct answers provided them a "spin" on the strange board of images behind Giuseppe.  At the end of a round, each contestant would test their luck, taunting their fortune with the board.  Fists smashed down on the buzzers, looking to stop the board's spinning marker and images…hoping to catch a symbol yielding prizes while avoiding the notorious visage of the board's Mutant…barry Wiranata.  Many a Wastelander lost all of their winnings due to ill luck (or green-greed) from barry's appearance, some losing the game entirely when they landed on his spot for a fourth time.  Others, however, proudly walked away with valuable prizes graciously donated by Wasteland merchants, their pockets full from the treasure of Giuseppe's coffers.  ((Taunt the Mutant was based on the classic American game show Press Your Luck.))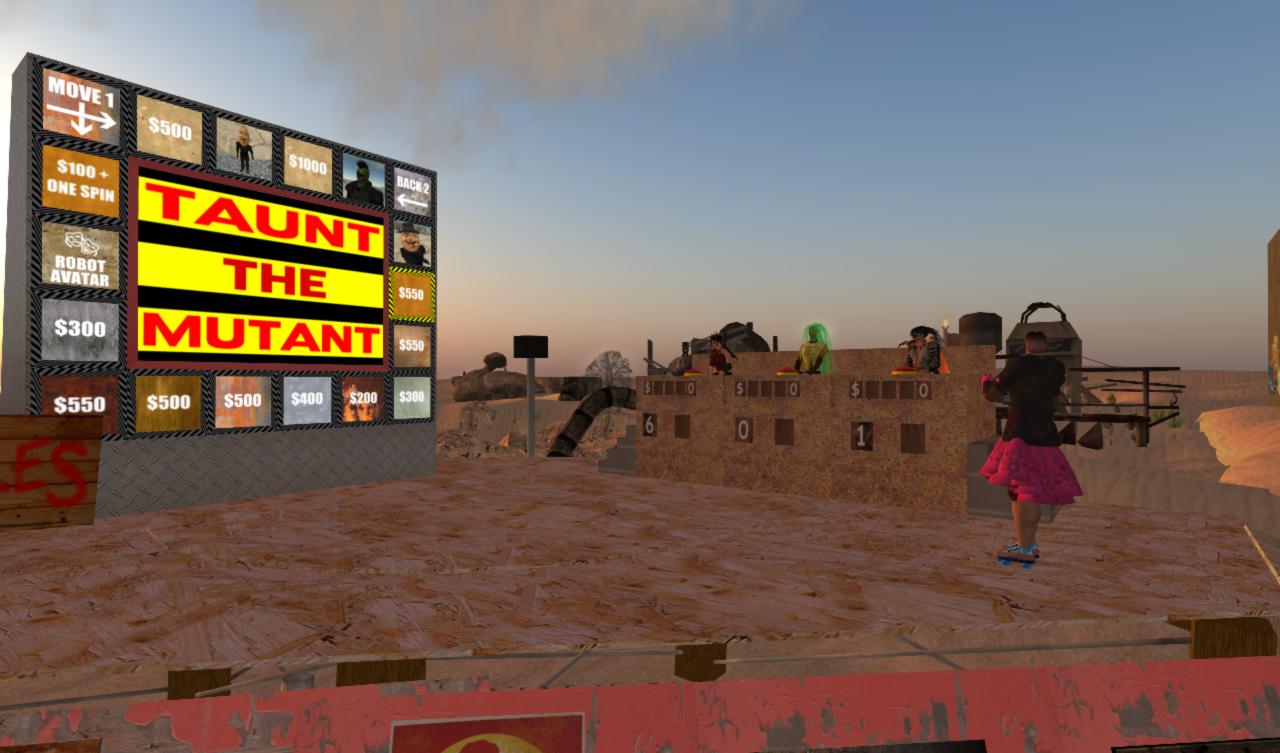 Another clever ritual unveiled by Giuseppe was Match Game ((based on the American game show of the same name)).  A panel of 6 individuals was assembled at stage left while 2 contestants sat at stage right.  A question or unfinished sentence would be posed to one of the contestants and the panel.  On cue, the panel would hunch over, furiously scribbling their answer on a board placed in front of them.  Once the panel was finished, Giu would ask the contestant for their answer.  Then, he would turn to the collection of scoundrels he gathered and asked them each in turn their answer.  If any answers matched up with the contestants, the contestant would receive a point as a reward and the next contestant would have their turn with the panel.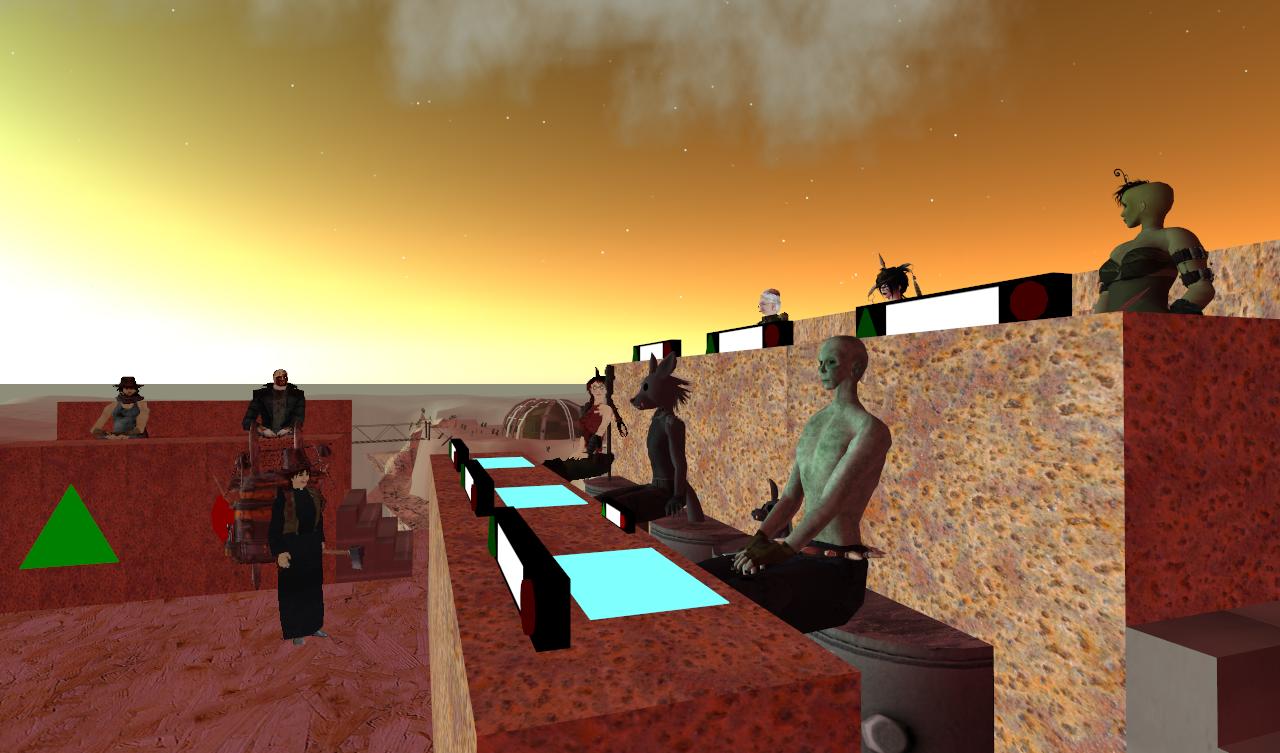 Many times, the panel's answers were rational or absurd, hilarious or confounding, random or abstract, subtle or blunt with sexual innuendo that left all in attendance laughing.  Occasionally, when he wasn't laughing also, Giuseppe resignedly chuckled into his microphone and ran a hand over his face, his panel of misfits elbow-nudging or back-slapping one another with pride.  Unsurprisingly, this particular game gathered a large following from the Wastelanders with a notorious sense of humor!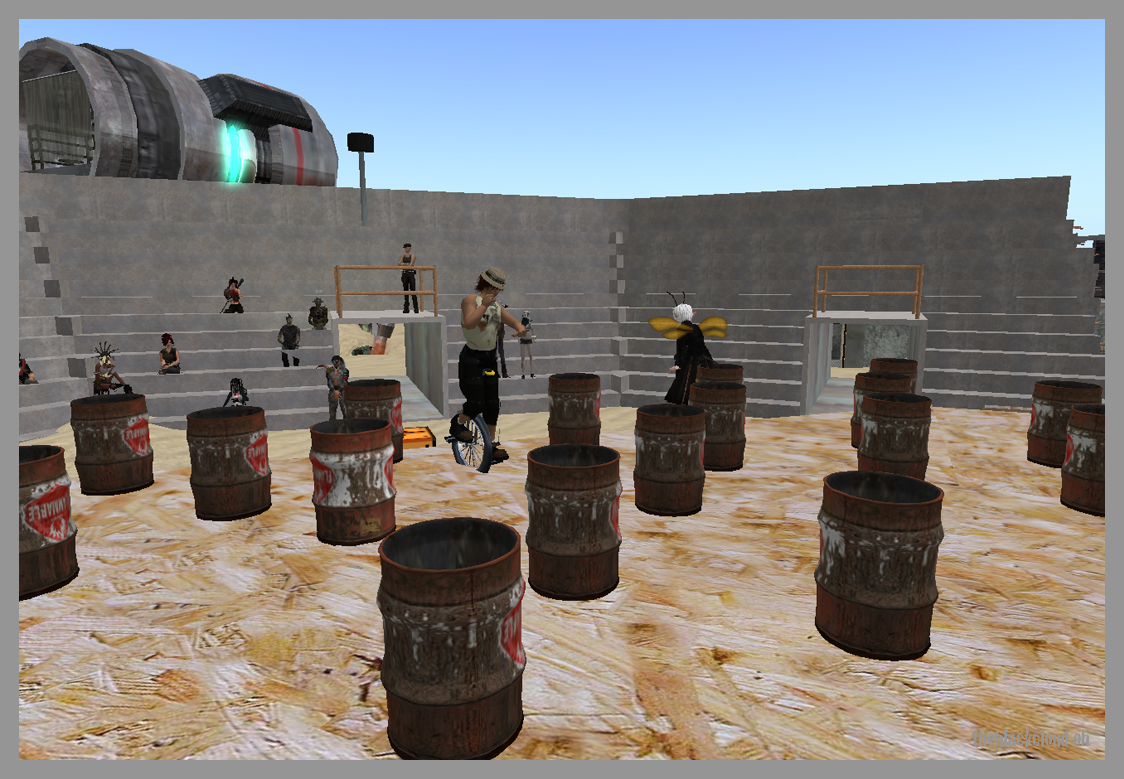 The third game was very much a gambler's dream or nightmare.  Boom or No Boom! While curious Wastelanders watched from the stands, Giuseppe rolled out a collection of steel drum barrels on to the stage, setting their rusty shells upright.  Anyone willing to test their luck was brought on stage, picking a barrel to sit on to win a prize of varying value revealed to be inside.  The contestant was then asked to pick other values while atop their comfy perch and any barrels containing the spoken amount would explode!  The audience often shouted out to the player, encouraging them to make certain picks!  As the number of barrels diminished, Giuseppe would then call upon a "friend" from the audience to offer the player a prize…or test their good fortune to continue and see what they might walk away with from the remaining barrels.   A hefty reward for their gamble or diminished returns from spoiled risks.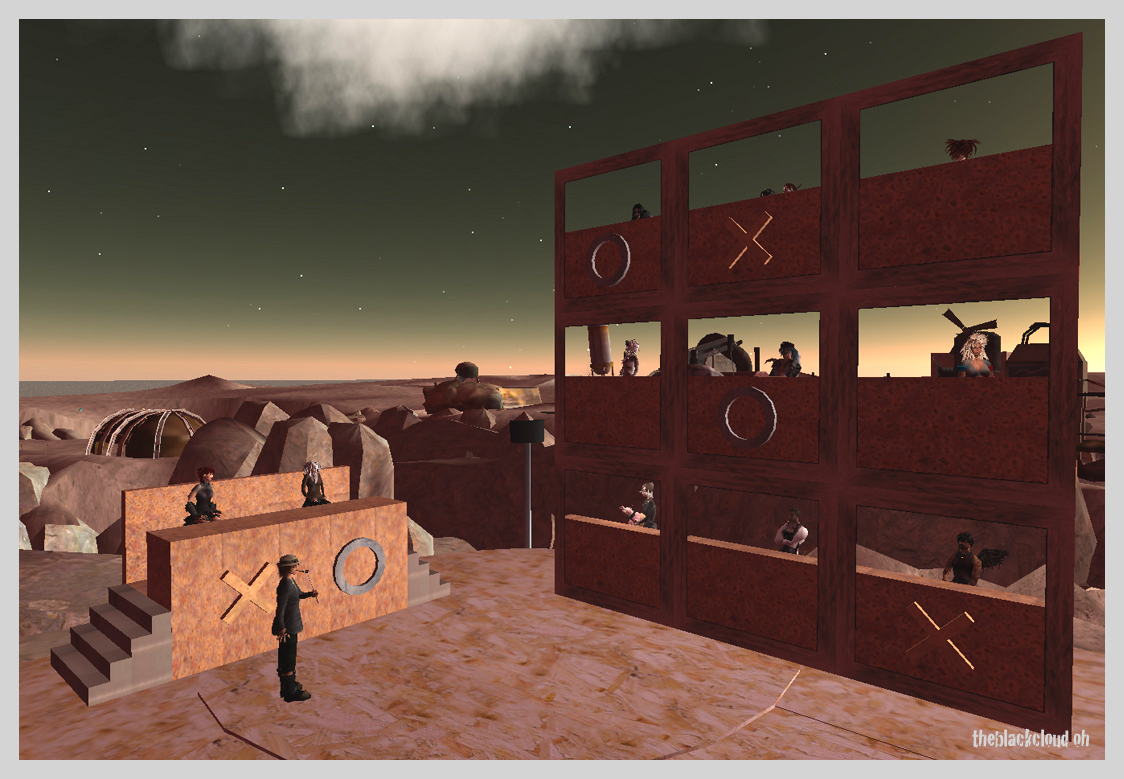 And last but certainly not least was Wasteland Squares ((based upon the infamous Hollywood Squares game show)).  Another panel of colorful Wastelanders was gathered, nine total, to sit in a display board of squares arranged 3 x 3.  Two contestants were picked from the crowd and directed to pick one of those Wastelanders to answer a question from Giuseppe.  With much careful or carefree thought applied, an answer was offered and the contestant either agreed or disagreed with the response.  If their hunch proved correct, the player won that square, now bearing their mark of possession: an X or O.  Clearly this was a larger version of the game we've all played near the campfire at night, marking off one of those symbols in a grid drawn in the sand with sticks to get three-marks-in-a-row.  Some might scoff at this mere child's game,  "Tic-Tac-Toe", but these gatherings of scrappy adults always enjoyed playing Giuseppe's large-scaled version on the grand stage of the Chaoseum.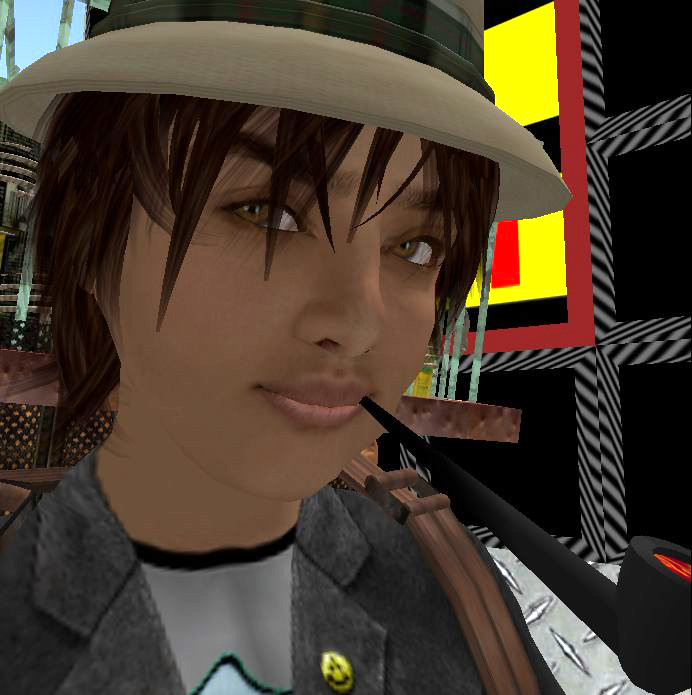 Test and risk.  Quiz and gamble.  Games of chance and strategy.  With the unveiling of the Chaoseum and its entertaining games, Giuseppe Spicoli became a sensation of the Wastelands.  He mutated from being a cantankerous hermit kicking at an old movie projector to a crafty master of ceremonies with a flair for showmanship and many tricks up his sleeve.   Soon, he would pull another grand trick of strange magic, being one of the few to set their sights on the barren lands beyond our borders…