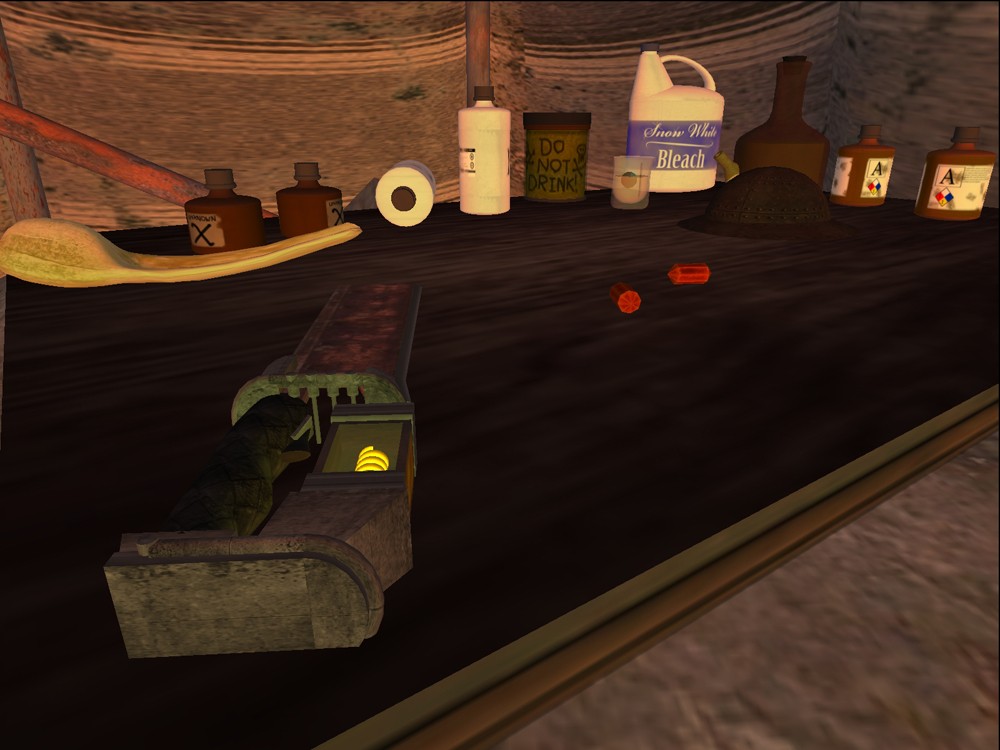 While Wastelanders traded ideas and theories about the strange fragments that have appeared, more than a few stumbled upon a new structure nestled in the western crags of Stygian's crater.  A small tent of steel poles and dirty canvas sheltering a wooden table.  Upon its surface, many familiar and unfamiliar items are scattered.  Chemicals and bottles.  Large teeth from one or more sand hippos.  Small sculptures formed from a red-orange resin.  A wicked mechanical knife that looks far deadlier than our simple blades bound with plastic.

The most curious…and most disturbing of the table's collection are two very familiar objects.  Floating in a beaker of milky liquid is a brilliant blue orb.  Lying near the table's center is an infamous hat of battered and bolted metal.  The eye and hat of an ancient rustman, nearly identical to those of our own, the Wastelands Rustman named NeoBokrug Elytis.

Of course, this strange hut and its contents stirred more rumors.  Did it belong to NeoBokrug?  Are there more rustmen like him still out there somewhere?  If this wasn't the Rustman's hut, whose was it?  And what are they doing inside?  What strange work is being conducted in the shade of this tent?
A few Wastelanders solved one of those questions when they found a stranger lurking within the hut.  Patrice Cournoyer and Vino Breen were among those that found the human, looking old and worn, wrapped up in dark hides and fabric as he worked over the table.  His weathered features suggest knowledge and experience to those that have met him.  Not many folks manage to survive to an old age in this world unless they're very fast, very skilled and probably very dangerous!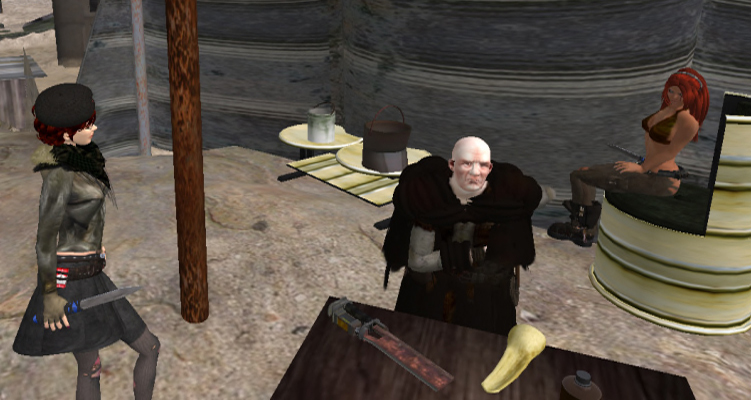 So….what's he building in there?
No one knows and this old man, supposedly going by the name "Gill", doesn't seem eager to answer questions about it.  I have also learned this "Gill" cleverly enlisted some Wastelanders to keep curious scavengers away whenever he's tinkering inside.  The services of notable veterans Pietro Moskvitch, Kezz Mauriac, Aposiopesis Fullstop, and Jubal Quintis have been purchased.  From what I've managed to learn, it's a deal brokered with words as the only downpayment.  A veiled promise of information and maybe goods.  Something about him might warrant respect and trust?  Maybe they hope to garner his favor for an unknown reward based upon what they've seen in the hut?  Or maybe they just want to keep a close watchful eye on this stranger?
Friend or foe?  Just another scavenger?  It's hard to say at this time but many Wastelanders don't like the smell of it even though everything around here has some stink on it.  They don't like the looks of it either from what they've seen in that tent!
Some wonder if he's shown up here trying to chase down the orange glow, to get his hands on the Fragments others have found.  What are those little resin sculptures and why do they remind me of the fragments?  Is he an ally or threat to our own rustman?  No one has seen the two of them together as far as I know.  And why does the old man possess parts of other rustmen?
Many questions.  No answers.  Perhaps I'm looking in the wrong places.  I've been by that hut a few times, but no one is there so I haven't had a chance myself to barter information with this stranger.  To get a measure of what he's about.  I probably don't have anything he'd be interested in anyways.  For now, I'm relying on witnesses, contacts and sources.  I'm hoping the Wastelanders find out what this old man is working on.  The timing of his arrival seems very convenient and suspicious.
What is he building in there?
We have a right to know.