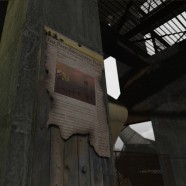 Jun

12
Tags
Related Posts
Share This
The Pulp (06-12-11)
It's now the second moon of the Season of Violent Winds, one of the most volatile seasons in the Wastes, and the sands are blowing fiercely.  The wind does little to chill the air:  no matter how shady your shelter, the heat seems to snake in through even the smallest crack.  Yet it's almost tempting to break out the longcoat again, just to help keep the sand from flaying the skin from your bones. But the wind seems to give as much as it takes:   ancient edifices are being unearthed from the dunes almost on a daily basis – along with scattered troves of long-buried lumber, metal, and other building supplies.    And, with the wind, drifters long unseen sometimes venture back into the Wastes – while others drift away…
UPCOMING EVENTS:
Saturdays
Fight Night @   The Arena at the Old Potato Farm, Hambone Slash 3:oo – 4:00 pm SLT
One-on-one combat in a brutal, trap-filled combat arena.  Occasional guest DJs!
Sundays
Pathfinder: Curse of the Crimson Throne @   Hambone Slash 10:00 am – 2:00 pm SLT
A high-fantasy tabletop roleplaying game related to Dungeons & Dragons.  Spectators welcome!
Saturday, June 25
The Gathering of the Tribes @ To Be Announced 1:00-??? SLT
Best-Dressed Mutant contest, Wastes-wide "Man"hunt for all non-Mutant avatars, special Fight Night with old-school scrap prizes, realworld cooking contest, and three music performances beginning at 5pm SLT and ending "when we drop dead in the sand"
EVENTS HIGHLIGHTS:
May 22nd's Movie Night feature was the 1971 Shaw Bros. wuxia film The New One-Armed Swordsman. Lei Li, an arrogant but talented swordsman, is challenged to a duel by an old and cunning master – and whoever loses the duel must also lose his arm.  Lei Li is defeated and somewhat humbled, but he keeps his word and, using his own sword, disarms himself.  Li goes into hiding as a waiter, until wandering swordsman Ti Lang finds him and tries to encourage him to return.  Li is unmoved – until that same scheming master kills Lang, as well.
The following Monday featured the 80s comedy Summer School starring Mark Harmon and Kristie Alley.  Harmon plays Freddy Shoop, a gym teacher who is roped into teaching remedial English to a bunch of disaffected youths who would much rather be enjoying their summer break – as would he.   Early classes are little more than idle fieldtrips and rampant goofing-off — but the slacking must turn to serious scholasticism as the test date draws nearer.
June 6th's movie was the 1985 sci-fi adventure comedy My Science Project, where a couple of teens discover a bizarre glowing orb that – despite looking like something from a clearance rack at Spencer's Gifts, to paraphrase another viewer – has the power to absorb energy and alter time and space.  Why yes, this does eventually mean dinosaurs.  Geeks and Cool Dudes alike must band together to put a stop to the menace.
Another wild War Zone lay waste to Hambone Slash on Saturday the 28th.  Team One, captained by Ironblood Mechanique, faced off against Team Two, captained by Dassina Andel. With the new jump-limiters in play, the matches were much more interesting – and much more perilous.  While there were no more death-defying leaps from the tops of buildings, there were tricky maneuverings on the series of Mutant-wrought platforms.  A slight stumble could easily send a runner falling over the edge – not a fatal fall, unless severely hurt already, but enough to help the flagbearer secure the lead while the fallen one tried to climb back up and take another route.   Team Two won both rounds, making the final match another fist wraps-only exhibition bout, after which both teams received their Victory or consolation platters.
Last Saturday was another brutal (and especially gas-heavy) Fight Night.  The final was between Sandusky Kayvon, Baral Letord, and Dassina Andel.  The Hooper Gambit only lasted Sandusky so long; he soon fell to his wounds and took third place.  Baral fell in a hail of bullets, leaving Dassina as the last cat standing and this week's first-place winner.  Finalists received L$1000 and the Fight Night trophy, L$500, and L$250 in descending order.
ESTATE NEWS:
Another Wastelands Community Meeting took place half an hour before War Zone, covering the Estate, the Gameplay, and the Roleplay.   Full details can be read on the Forums, and the discussion is welcome to continue.  To summarize:
Estate
The Tier Meter revamp is on hiatus until the end of the Land Sale
The Wastelands Public Works Department has been reborn (see below)
Game
The Buzzards will have to be temporarily taken offline soon – messages sent when they're returned to Neo's inventory are capping his IMs.
New Critters may be in the works
Everyone really, reeeeally wants the Bow
Food is possibly too plentiful – and Neo is considering lowering the spawn rate of food significantly.
This may also lead to changes in the availability of the Food Trader.
Roleplay
Ccindy Pfeffer is willing to help kick-start a project after this week
The Glint of Orange quest has not been forgotten or ended – and Gill is not dead.
Aposiopesis Fullstop is considering writing in-character interviews that would help increase knowledge of character histories.
The 2011 Wastelands Machinima Contest is nearing its June 15th deadline!  Your work must be filmed in the Wastelands estate, and must not have been seen before.  The winner will receive a free 234 prim plot and one year's worth of tier, and all participants will receive L$5,000 as a consolation prize.
The End of Education Land Sale is still live.  The sale price of all Estate-owned parcels is slashed to 50% off until June 15th – still including all the same features:
Four weeks of tier
Free access to the textures and sculpties created by the Wastelands Public Works Department
Free high-quality thematic builds – all of them made by Wastelanders, for Wastelanders.
The Wastelander Referral Program is on hiatus until the sale ends.  By all means, continue to recommend The Wastelands to others – they'll just be getting a deal instead of you.
RP NAMEDROPS: These are strange days for the residents of The Junkyard.   Mr. and Mrs. Black are guiding a young ghoul in this ruined world – and she's already run away from home.  Lani Black has taken Smokey's Ripper Pistol and Scavenger's Knife and wandered off into the Wastes.  Smokey is searching relentlessly – and asks anyone who sees this child to tell her to "GO HOME!"
Lani may have drifted off with the winds, but some old familiar faces have returned:  Corwin Bellic has been seen in the Great Fissure – and the word from various bruised and battered scavengers is that he's reinstated the Pirates once more.  Even the eerie old Ghoul Syruss Constantine has been seen lurking around his old haunts.   Scavengers are advised to keep their guard up – the Pirates have been known to rob unwary wanderers.
Meanwhile, the sprawling catwalks surrounding the Mutant homes in the northeast of Hambone Slash seem only to continue their spread – and some Mutants have been seen with their hungry eyes on Malady Bog….
((Editor's and Dev's Note:  There have been instances where The Press found a story through rumor and in-character investigations…only to realize the roleplayers involved were meta-gaming, shoe-horning, taking great liberties, or flat out ignoring the RP history, guidelines, and canon.
As one of the Devs, I ignore it because we don't police the RP.  As an Editor of the P-A Press, however, I have to decide if and how we write about it.   We've either had to ignore a story entirely, or spend time editing it to fit the theme and canon.
Here are some important links from the Wiki for reference:
Roleplay in The Wastelands, The Wastelands History, and The Races of the Wastelands
The Press really wants to write about your characters and stories.  That's why it was started in the first place but it's very difficult to do that when the stories and characters are contrary to the canon. If you have any questions about your characters or storylines, please feel free to contact me, Sandusky Kayvon.  I'm happy to help answer your questions.  Often, it's just a matter of changing a few details or changing how something is portrayed to make it work.  Keeping it simple is usually the key to success.  The more elaborate a story or character becomes, the greater chance it has of veering outside of the RP canon. – S.K.))