Although War Zone in the Wastelands typically pits established factions against each other, sometimes insufficient numbers assemble to hold it properly.  (At least 3 members of any faction are required).  Therefore, the metal man, NeoBokrug Elytis, split all interested and eager individuals into assigned teams last night and singled out two to serve as their captains.
Team 1 was VoidTraveler Seetan (captain), Iconius Yatsenko, Kezz Mauriac, and Psycho Baroque.
Team 2 was Aposiopesis Fullstop (captain), biche Xue, Kanuck Heliosense, and Mollyblue Etchegaray.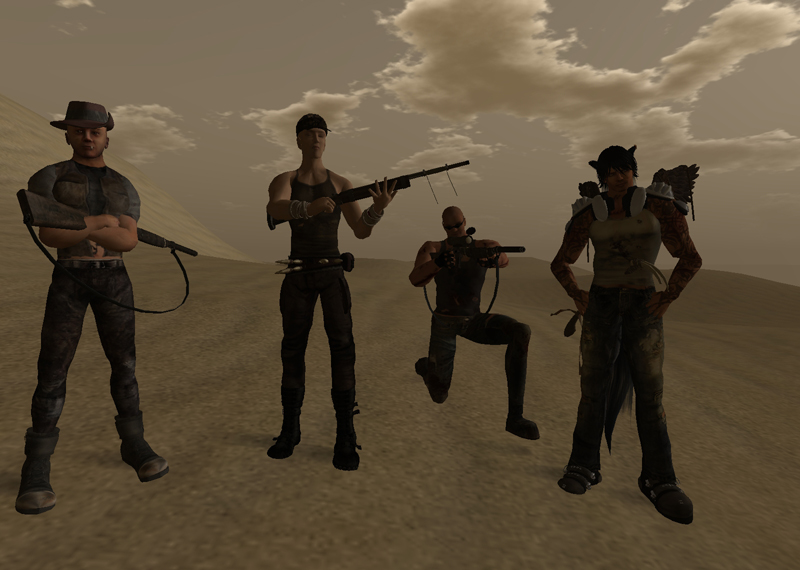 In the first match, Team 1 thoroughly dominated the competition when Psycho Baroque acquired the flag and raced around the perimeter of quarry, never relinquishing the flaming fabric.  His teammates quickly dispatched Team 2 and kept them at bay for the remainder of the match.  Periods of intense gunfire alternating with patient silence to retain possession and win the match.
In the second match, Team 2's captain, Aposiopesis snatched the flag but the success was short-lived when Kezz snatched it from her hands as the fighters got lost and disoriented among the dunes at the region's perimeter.  Once again, Team 1 quickly dispatched most of Team 2.  biche Xue ferociously denied the odds for some time, evading Team 2's shots while she exchanged furious blows with VoidTraveler.  It was a valiant effort but she eventually collapsed from her wounds.  Team 2 managed to regroup, decimating Team 1 to pursue Kezz and the flag he closely guarded.  Time was on his side though as the match ended and Team 1 succeeded again to win this weekend's War Zone.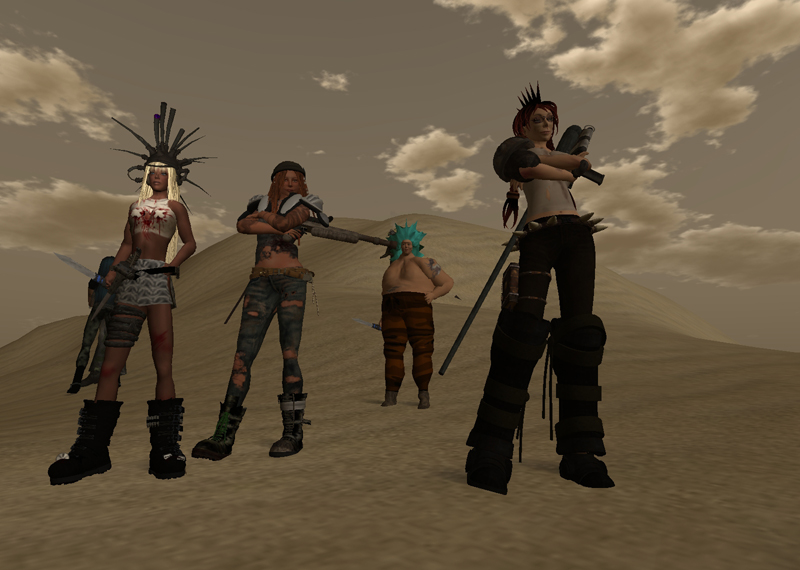 A final free-for-all Capture the Flag match was arranged.  This time chaos reigned supreme as former team-mates turned on each other to acquire the prize.  biche Xue snatched the flag and cleverly evaded pursuit until Aposiopesis caught up to her, stealing the flag away.  She clung to flag and hid herself away from most as chaotic fights broke out among the combatants when they lost sight of the flag.  Eventually, Psycho Baroque caught up and defeated her, snatching it from her hands but it was too late.  Time ran out and Aposiopesis claimed victory for hanging on to it for the longest stretch.
The fighters, battered and beaten, gathered about the metal man to claim their winnings.  Apo won the rare board with nails while Team 1 received the War Zone platter of nail boards, med kits, and ammunition.  As the light dwindled across the dunes, the Press snatched some photos of the team and the scavengers disbanded.  Some met up at the Tar Pit later for drinks and music culled from ancient sounds of the old world courtesy of Pirate Graves.
(War Zone is held in Hambone Slash on the first and third Saturday of each month at 3PM SLT.  Higher resolution versions of the above pictures can be seen here and here.)