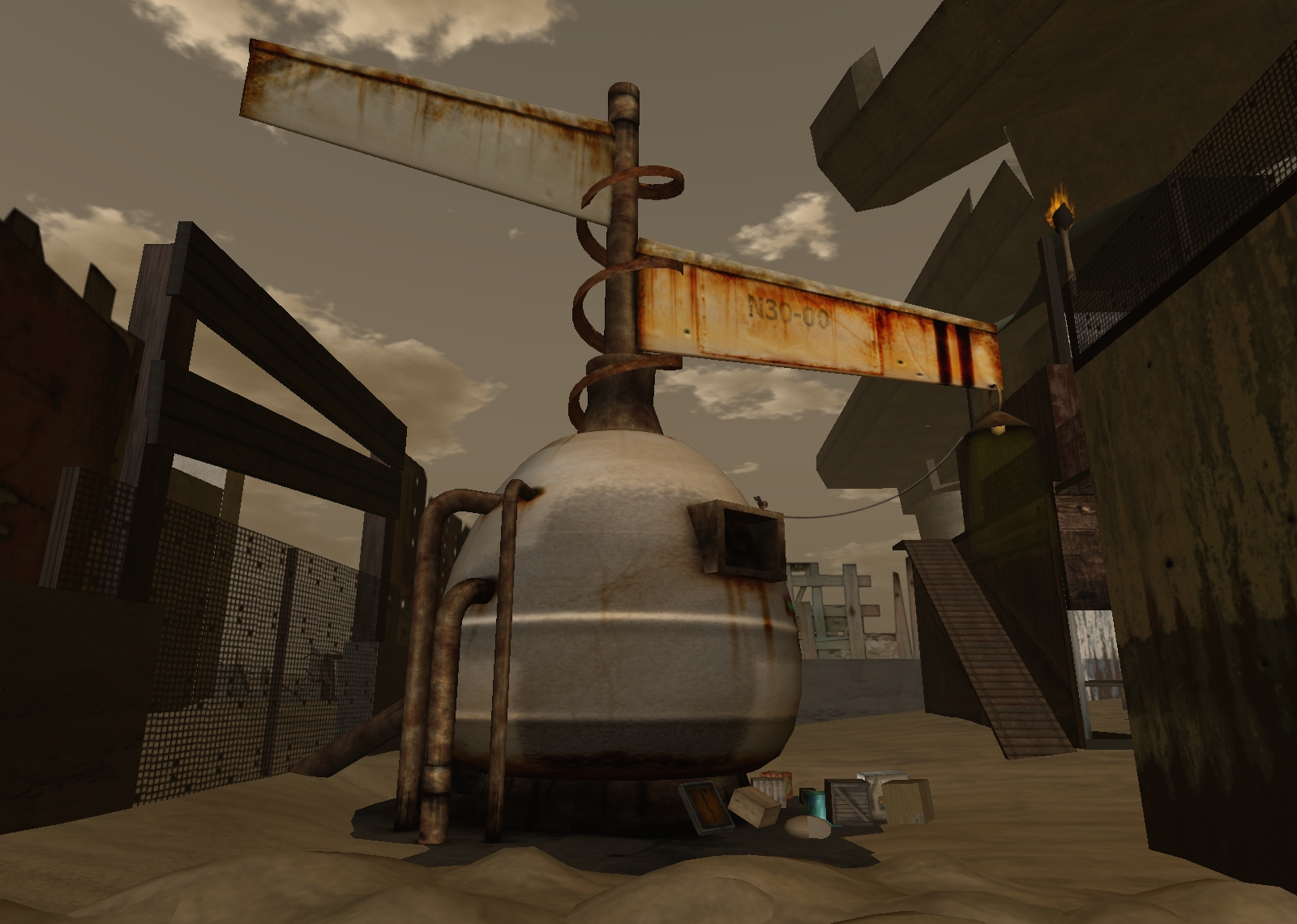 Chill wind gnaws at the skin.  Invisible harbinger of slight seasonal change.  It sneaks around us mostly unnoticed among the ruins, the rocks, the sand and the swamp.  The burning days have grown shorter while the chilling nights last longer.  Wastelanders ignore it for the most part but are compelled to stop by the large boiler set up in the Heapkeeper's sandlot in the Junkyard.  A potential tradition of gathering and gracious gift-giving to and from the feisty scavengers who normally cling to anything they can get their hands on that isn't tied down. 
Standing near the boiler's warmth and looking over the gifts, I note this is the second appearance of the contraption.  I imagine its construction in my mind's eye with a smile.  The ominous metal man silently directing the notorious ghoul patrolman to erect the heavy mechanism.  Meanwhile the Heapkeeper looks on, suggesting it turn this way or that a bit before nodding his approval.  New scavengers watching with curiosity from afar while the veterans realize the structure's return, both approaching as the trio finish their labor.  
A mechanical tree with broken wing-limbs spanning above us.  Symbols of grounded flight.  Mechanical hearth of shelter.  Rough boxes of wood, cardboard, and metal.  Scraps of strange food and cheese.  Trinkets silently attached or solemnly placed at the boiler's base, its belly full of strange heat to warm our spirits in the wreckage of this land.  Offerings shared between the proud folk of the Wastelands despite the sharp wounds and nagging bruises of past battles.
The darkest night of the year approaches so I do in kind as that of my fellow Wastelanders.  I leave my own meager gift for any that wish it and take from those already left behind then return to the ruins, the rocks, the sand and the swamp.
((The Post-Apocalyptic Press wishes the Wastelands a very happy holiday! Thanks also to Neo, Spider, and GB for the tree again! – Sandusky))
(The second annual Giftmas Tree is located at the Heapkeeper's Heap in the Junkyard for any Wastelanders wishing to leave a gift or ornament.  How To place gifts:  Please place all your gifts to anyone in a **ONE PRIM** box under the "TREE" at the Heapkeeper's hut in the Junkyard.  How to Decorate the TREE: Rez and place a **ONE PRIM** decoration on the tree.)